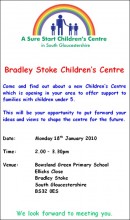 Residents of Bradley Stoke are to have the chance to find out about a new Children's Centre that will open soon in the town.
The new Sure Start Children's Centre at Bowsland Green Primary School will offer a wide range of support services to families with children under five.
South Gloucestershire Council (SGC) is staging a meeting at the school on Monday (18th January), the aim of which is to:
Share information on what the Children's Centre can offer
Obtain views on the services that should be offered to serve the local community
Recruit members (especially parents) for the Centre's advisory board
The meeting takes place between 2 and 3:30pm. Further information is available from SGC Project Officer Gail Amphlett on 01454 864169.
Sure Start brings together childcare, early education, health and family-support services for families with children under 5 years old. It is the cornerstone of the Government's drive to tackle child poverty and social exclusion working with parents-to-be, parents, carers and children to promote the physical, intellectual and social development of babies and young children so that they can flourish at home and when they get to school.
Funding for a Sure Start  Children's Centre in Bradley Stoke was announced in December 2008, with Bowsland Green Primary School being named as the chosen site.
The new centre will be accommodated in the school's original hall, a new, larger, hall having been constructed for the primary school children by converting an unused courtyard.
Last 5 posts in Healthcare