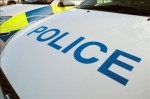 Bradley Stoke Police say they arrested three adult males following a robbery in Brook Way on Friday 20th August.
Two males are said to have grabbed a female's handbag as she passed them walking in the opposite direction.
The victim was pushed over when she resisted. No weapons were used and she sustained no injuries. One male left in a green Volvo car whilst the other walked off, dropping the victim's bag.
Beat Manager PC Steven Palmer  says he wishes to assure  local residents that this is an unusual offence for Bradley Stoke and that there haven't been any other robberies in the town since his arrival two years ago*.
Of the three males arrested, police say one is currently on bail and will be charged with robbery on his return; the other two are to be released without charge.
Related story: Mobile phone not good enough for Bowsland Way robbers
Related link: Police in Bradley Stoke (The Journal)
* Statistics published on the Local Crime Mapping website show that there were, in fact, two robberies in the last twelve months within the Bradley Stoke Beat area.