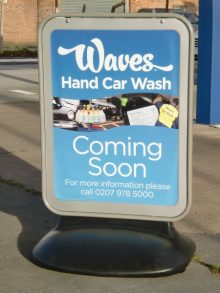 The Willow Brook Centre has announced the opening of a new car wash service to be launched on Friday 25th March 2011.
Waves Car Wash Limited provides hand car wash and valeting services, offering "a premium service at reasonable rates".
Shoppers will be offered a range of options spanning a basic outside-only wash to a full valeting service, with prices starting from £6.
Waves is a privately owned company operating in over 30 sites in the UK and the new operation in Bradley Stoke will create at least five new jobs.
The Waves Hand Car Wash Centre will be located in Zone C of the Willow Brook Centre car park, close to the pedestrian entrance off Bradley Stoke Way.
The Mayor of Bradley Stoke, Ben Walker, will attend the launch at 10:30am and celebrate the opening by having his car cleaned by the Waves valeting team.
Willow Brook Centre Manager Scott Lahive said:
"Waves is an extremely professional operation and will be a great addition to the centre.  This service will be perfect for our visitors when they are here to do some shopping, or having a bite to eat.  The 1,000 plus people employed at the centre will also benefit from a car wash on their doorstep."
Joanna Graham, Director of Waves Car Wash Limited added:
"We are very excited to be opening at the Willow Brook Centre.  We will be using an innovative water recycling unit designed to ensure that the service uses as little water as possible, which we have found is an increasingly important concern to our customers."

"We have recruited a very experienced owner-operator who will provide customers with very high-quality car washing and excellent customer service."
The facility will be run from a steel cabin and will occupy nine of the existing parking slots.
Photo: Plenty of work stiill to do at the site of the new Waves hand car wash facility in the car park of Bradley Stoke's Willow Brook Centre.
Last 5 posts in New Town Centre