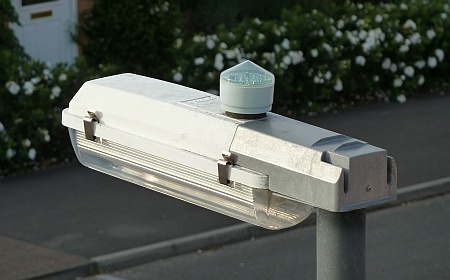 Councillors could be in for a hard time at tonight's meeting of the Bradley Stoke Safer and Stronger Community Group, where a number of residents are expected to protest against the recently completed part-night switch-off of street lights in Bradley Stoke.
The programme to adjust the lights so that they switch off between (nominally) midnight and 5am began in April but has only just been completed after work was halted on two occasions.
Work stopped for a week in April after a surge in complaints to South Gloucestershire Council (SGC) about malfunctioning street lights. The programme was then halted for a second time at the beginning of May, when "too much sun" was blamed for confusing new photocells fitted in the lamps, causing them to switch on and off at irregular times.
SGC later blamed a "software anomaly" in the new photocells and 2,000 lights had be be revisited by maintenance teams so that the faulty units could be replaced (at the expense of the supplier).
The aim of the scheme is to cut electricty bills and reduce CO2 emissions but a number of residents who have contacted The Journal have questioned whether the inconvenience and feeling of insecurity caused by the switch-off can be justified by the savings being made.
All the residents who have contacted us say they were unaware of the public consultation run by Bradley Stoke Town Council (BSTC) in the final months of 2010, despite the fact that every household in the town should have received a copy of the Council's newsletter, which included a two page spread about the proposed scheme.
The Council also advertised the consultation prominently on its own website and held a public drop-in session in December 2010, where large scale versions of the plans were displayed.
One resident, Maria Sequeiros, has been using the social networking site Twitter (@mariathengineer) to voice her disquiet. A posting on 2nd July describes the switch-off scheme as "insane", saying it will "lead to [a] rise in crime and insurance premiums". Maria also tells readers that she voiced her concerns at a recent Councillor Surgery and that the Council has told her that it has "no legal duty to provide lighting".
Other residents contacting The Journal have criticised the Council for introducing the scheme on the outcome of a public consultation that generated just 153 responses from a population of over 20,000.
Tonight's Safer and Stronger meeting [agenda] takes place at the Jubilee Centre, Savages Wood Road, starting at 7pm. As well as giving residents a chance to "have their say" about local issues, the meeting will include presentations from Avon Fire & Rescue and Bradley Stoke Community Radio.
Residents will have a further opportunity to question Councillors tomorrow evening (Wednesday 13th) at a BSTC Full Council meeting [agenda], also at the Jubilee Centre (7:30pm start).
Related link: What's On in Bradley Stoke (The Journal)
Last 5 posts in Bradley Stoke Town Council