Southern Brooks Community Partnership (SBCP) has announced the opening of the nomination period for the 2012 Outstanding Women's Awards, which are to be presented as part of the local International Women's Day celebrations.
The aim of the awards is to celebrate the many contributions that women and girls make to their families and communities – improving the lives and wellbeing of those around them.
Nominations are welcomed for women living in the Southern Brooks area, which includes Bradley Stoke, Filton, Patchway and Stoke Gifford.
Awards will be presented under the following three categories:
Community Award
For women who have taken on the role of community leaders either through their volunteering efforts, examples include running a toddler group, youth or ladies' group etc, or by going beyond their work specification or leading a pressure campaign to make changes benefiting their community. For women who have demonstrated leadership activities that have benefited their communities.
Business Woman's Award
For women who have either set up or managed a local business which has grown significantly; or have developed their employees, or women who have mentored others in business and are role models in their fields. For women making a positive impact on the communities that they work in.
Young Woman's Award
For young women and girls aged between 11 and 18 years who have taken on leadership roles whether as carers, or running their own businesses, or peer mentoring or leading a community group or volunteering or have made a significant difference to their own lives that has impacted positively on others. They have made a difference to the lives of those around them.
Nomination forms may be collected from Bradley Stoke, Patchway or Filton libraries or downloaded from the SBCP website.
The closing date for nominations is Friday 10th February.
In contrast to previous years, SBCP has announced that there won't be a big 'one night' celebration of International Women's Day in 2012 (see our photos from 2010 and 2011).
Instead, local community groups have been invited to stage activities over a two week period from Monday 5th to Friday 16th March 2012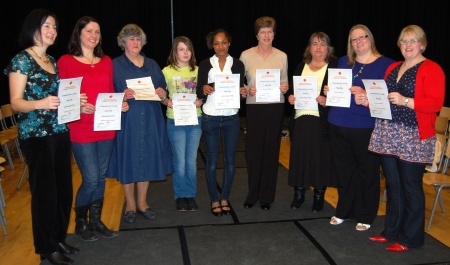 Photo: Winners of the Southern Brooks Outstanding Women's Awards in 2010.
Last 5 posts in General News