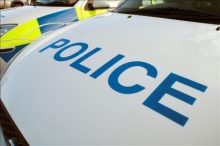 Police are urging people living in Bradley Stoke and Little Stoke to make sure doors and windows are secured after reports of an early-morning prowler.
Officers were called to two incidents yesterday morning (Wednesday 18th January) in which householders spotted a man in their gardens.
A man was seen in a garden in Elm Close, Little Stoke, at about 6:45am. He made off when the householder shouted at him.
A second, similar, incident happened in Oaktree Crescent, Bradley Stoke, at about 8:50am.
Neighbourhood PC Steve Palmer said:
"Officers have carried out house-to-house enquiries and patrols in response to these reports. At the moment it's not certain the incidents are linked, but we are keeping an open mind."

"There has been no attempt to get into any home, but I'd ask people to be vigilant, make sure side gates are secured and keep doors and windows locked."

"Don't leave the door unlocked when you leave for work or to take children to school, even though another family member is still at home."
PC Palmer said police had a arrested a man in connection with a similar incident in Bradley Stoke in November but following further enquiries he had been released without charge.
Officers are increasing their patrols of the area at the relevant times and are circulating a warning through Neighbourhood Watch.
The man seen in Elm Close was described as white, aged 30 to 40, about 5ft 11ins tall, of medium build. He wore jeans, a blue top, black jacket and a balaclava.
The description of the man in Oaktree Crescent was of a man wearing a dark hoodie.
The man seen in the incident in November was said to be white, in his late 20s or early 30s, about 5ft 11ins, of muscular build, wearing a raised hooded top to cover his face.
Anyone with any information which could help police enquiries is asked to contact Filton Police Station on 101. Alternatively call Crimestoppers anonymously on 0800 555 111.