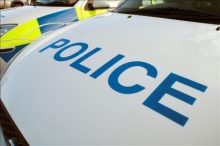 Bike theft, racial abuse and drugs are the main topics of local interest in the latest police newsletter for the Severnside, Stokes & Villages area.
It is reported that fifteen suspects were arrested last year following a spate of bike thefts from outside leisure centres, youth clubs, schools. colleges and shops in Bradley Stoke, Little Stoke and Stoke Gifford during September and October. Two people have been convicted and a further two are still going through the courts. Amongst the others, a 17-year-old Bradley Stoke man was given a final warning and a 22-year-old Bradley Stoke man was handed a caution.
A man aged 59 and a 43-year-old woman from Bradley Stoke have each been given a police caution for racially abusing a child aged 10, one of a group trick or treating at Hallowe'en.
In December, Neighbourhood PC Steve Palmer arrested a man for a number of drug and driving offences after following up reports of suspicious activity at an address in Bradley Stoke. After stopping a van driving away from the property, PC Palmer arrested the driver on suspicion of driving whilst disqualified and without insurance. He then found the man to have cash and tablets, while a search of the house led to the seizure of 45 suspected cannabis plants.
The man was further arrested on suspicion of controlled drugs, production of cannabis, possession of cannabis with intent to supply and abstracting electricity.
A 41-year-old man from the Bristol area remains on police bail pending forensic tests on the substances.
Data on the Police.UK crime statistics website show that there were four instances of drug-related crime in Bradley Stoke in December 2011. The overall number of crimes recorded in December was 74, the lowest of the year. July was the worst month for crime, with 180 recorded incidents, of which 93 were classified as relating to anti-social behaviour.
Neighbourhood Sergeant Clive Johnson advises owners to always secure their bike to a solid structure with a 'Sold Secure'-quality lock and chain – check out www.soldsecure.com for further advice.
The Bradley Stoke police team holds a drop-in 'beat surgery' session every Wednesday between 1pm and 3pm at the Willow Brook Centre.
Related link: Police in Bradley Stoke (The Journal)