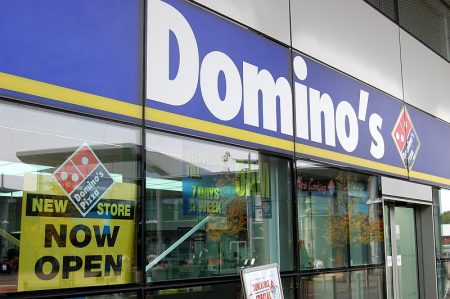 Domino's Pizza has opened at the Willow Brook Centre in Bradley Stoke, creating 35 jobs.
The local pizza delivery expert has taken a 1,400 sq. ft. unit that was formerly Simpson's Fish & Chips in the Town Square.
Willow Brook Centre Manager Scott Lahive said:
"We are really pleased to welcome Domino's which will be great for visitors to the centre and also serve the local community with its delivery service. It's great to see another food operator so keen to move into the centre."
Domino's Manager Perry Ghandi said:
"We opened a little earlier than planned which we're all really happy about. It's only our first week but we've had a great response from the Bradley Stoke community so far."
Opening hours of the new store are advertised as "10am to late", seven days a week.
Domino's Area Manager Salil Sahni confirmed to The Journal that the store would be trading until 5 o'clock in the morning. The firm's home delivery vehicles will park on the Tesco garage forecourt to avoid any potential disturbance for residents of nearby properties, he added.
Related link: Takaway Food in Bradley Stoke (The Journal)
Photo: The Domino's Pizza store that previously traded at Simmonds View, Stoke Gifford, has closed. [Photo: ©Stoke Gifford Journal]
Last 5 posts in New Town Centre