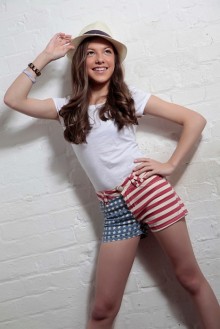 Tasha Mason (13) a student at Bradley Stoke Community School (BSCS), has been selected from an initial 19,500 entrants into the semi-finals of the annual 'Teen Queen UK' beauty pageant.
Tasha was invited to enter the competition whilst visiting 'The Clothes Show Live' in Birmingham last year with her mother Vicky.
She's now battling for a place in the London final via a public vote and is hoping for as much community support to get her through.
Tasha always hoped to have a career as a TV, film & theatre makeup artist but this exciting opportunity has instead given her the chance to experience a modelling career at first hand!
Tasha said:
"I'm really hoping that as many people in the community and my school support me as I'd love to represent Bradley Stoke at a national level!"
To vote for Tasha, please text the abbreviation TQ27 to 81319 (texts will be charged at 75p plus your standard network charge). From a landline call 0900 596 1000 then enter 27 (a landline call costs 75p). VOTERS MUST BE OVER 16 OR HAVE THE BILL PAYERS PERMISSSION.
The top two girls with the most votes in the current heat will go through to the final. Voting is for two weeks only and closes at 11:30pm on 31st January.
Not only does the competition give young girls the opportunity to go through to an exciting grand final with great prizes, but monies raised also support The Mad Foundation which, along with Teen Queen, encourages the importance of fundraising and offers Miss Charity category winners the opportunity to take Teen Queen monies raised to humanitarian projects all around the world.
Last 5 posts in General News