Cable company Virgin Media has confirmed that it has no current plans to extend its network in Bradley Stoke, claiming that demand for its services is "well below" the level required to justify investment.
The news is revealed in a letter to the Town Council, which had asked the company for an update on it plans after rival telecoms operator BT repeatedly snubbed Bradley Stoke in its superfast broadband rollout programme.
Around 5,000 of the 9,000 homes in Bradley Stoke have access to Virgin's cable service but the remaining 4,000 are dependent on BT's telephone lines for their broadband service (including those who subscribe to services from companies like TalkTalk and Sky, which run over BT lines). Because Bradley Stoke doesn't have its own telephone exchange, the long line lengths from the exchanges in Almondsbury and Filton mean that the internet speeds achieved by consumers can be less than a tenth of the national average.
In the letter, Virgin Media's Public Affairs Manager Dan Butler writes:
"Virgin Media makes decisions on whether to extend our network to new areas on a strict cost-per-home rationale. Unfortunately, it is clear from our most recent cost assessment that the cost-per-home of building network in Bradley Stoke far exceeds our investment case. Virgin Media would need to see levels of uptake in the region of 75 % to 80% of homes for the investment case to stack up."
At last week's Full Council meeting, Cllr Rob Jones commented that the latest response from Virgin Media was not unexpected as they had said the same several years ago. He added that he was confident that a final solution to the broadband problems in the town would eventually be found.
BT has said that it aims to complete its commercial rollout of superfast broadband by spring 2014 and it is believed that there will be just one further announcement of the exchanges that are to be included. If Almondsbury (serving 01454 numbers) does not appear on that list, consumers on those lines will have to look to the state-aided broadband investment programme that is being managed locally by South Gloucestershire Council.
The District Council has said it expects to sign a contract with BT by the end of January and complete its infrastructure investment by 2015. However, it is only aiming to bring superfast broadband to 90% of properties in the district, so there is currently no cast-iron guarantee that Bradley Stoke will benefit from the investment.
However, one Journal reader recently reported on Twitter that he had been assured by local MP Jack Lopresti, during a doorstep conversation, that the town is "assured highspeed broadband" as part of the deal between BT and SGC:
https://twitter.com/redlegoman/status/290069688245944320
The upgrading of BT's Filton exchange (serving 0117 numbers) was announced in April 2011, but most BT customers in Bradley Stoke that are connected to that exchange are still unable to order superfast broadband services. According to a checker on the BT Openreach website, the estimated date for availability of the Fibre to the Cabinet (FTTC) service at an property in Tarragon Place (Bradley Stoke South) is currently 30th June 2013.
Virgin Media is not eligible for state aid because its operates a closed network that is not made available to other telecoms companies.
One Journal reader who uses the Virgin cable network recently boasted of an average connection speed of 62Mbps, although another reader pointed out that the Virgin network in Bristol has suffered from slow speeds recently, especially in the evenings.
The company has also been criticised by Journal readers for wasting thousands of pounds delivering promotional literature to streets in Bradley Stoke where its cable network is not available.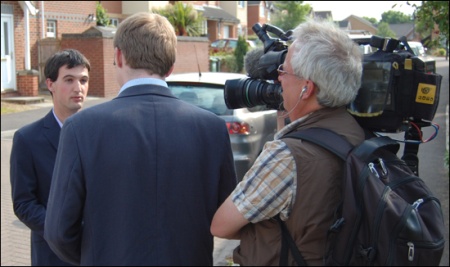 Photo: Cllr Robert Jones is interviewed by the BBC Politics Show West in a piece about the campaign to get Virgin Media to cable more streets in Bradley Stoke [Photo, from 2009, courtesy of the Bradley Stoke Examiner].
Related link: Better Broadband Campaign (The Journal)
Last 5 posts in General News