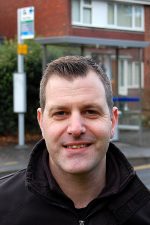 A Bradley Stoke Councillor is to speak at a "peaceful protest rally" called to express dissatisfaction with the high price of bus fares in Bristol.
Cllr Ben Walker (UKIP, Bradley Stoke North) will address the demo, which is due to take place outside the First Bus depot in Bristol city centre on Saturday (2nd February), between 12 noon an 2pm.
Other speakers confirmed for the event include Charlotte Leslie MP, Bristol City Councillor Mark Bradshaw and Green Party member Rob Telford.
The demo has been called by Bristol bus user Daniel Farr, who started an e-petition eight weeks ago complaining about the cost of First Bus tickets. His petition has so far attracted nearly 3,000 signatures.
First Group has reacted by announcing its intention to hold a structural review of bus fares in the Bristol area, combined with a public consultation that will be managed by a third party.
Justin Davies, Regional Managing Director for First in the South West and Wales, said:
"We are aware that the issue of fares in Bristol has often been a contentious one with a perception that the cost of travel here is significantly higher than elsewhere. This is frustrating for everyone and is something we have wished to tackle for some time."

"We want to heighten awareness about the industry and allow people to better understand the economics of running buses and the cost pressures we face."

"In return we want to hear from the public and their representatives, in particular what they think we could do differently to both attract more people on to buses and deliver the best possible value for money for our customers. This is why we are launching this review and consultation and we hope that as many people as possible will let us have their views."
News of the review and consultation has been welcomed by Bristol Mayor George Ferguson together with Bristol MPs Charlotte Leslie and Stephen Williams.
A spokesperson for the Filton and Bradley Stoke branch of UKIP commented:
"UKIP welcomes the First Bus consultation on Fares. Cllr Ben Walker recently met with the Operations and PR Managers of First Bus with Daniel Farr, the organiser of the petition for lower fares. The meeting was positive and concerns of bus users from the Stokes were put to them, many of which had been raised via The Journal and Town Council meetings. First continue to deal with some of the issues raised and continue to cooperate with Ben."

"Unfortunately, we are still receiving reports of complaint from local users against all the operators, who still have a long way to go before those local users will have access to services worthy of the current charges and can be reliable upon."
For the Conservatives, Cllr Robert Jones (Bradley Stoke South) said:
"It's important that First Bus do not simply go through the motions of consulting, but are actually prepared to listen and act on the responses they get back, particularly on the affordability of fares, which is a key concern for Bradley Stoke residents."

"Fare reductions do not necessarily have to lead to lower levels of revenue being raised because the company may find that they can attract more passengers with lower fares."
Another local bus company, Wessex Connect, came under fire from Cllrs Walker and Jones last year when the firm announced the withdrawal of the U7 and U8 services in Bradley Stoke. The operator was criticised by Cllr Walker for providing a "rubbish" service which was unattractive to potential customers. South Gloucestershire Council stepped in to support the doomed services with £17,763 of taxpayers' money before they were replaced by a remodelled 73/74 service run by First from September 2012.
Related link: Bus Services in Bradley Stoke (The Journal)
Last 5 posts in Transport