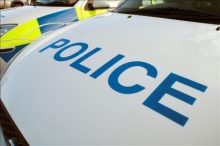 Police say they are aware of a suspicious incident in the Brook Way/Kemperleye Way area of Bradley Stoke at about 9.40pm last night (Tuesday 1st April).
A family reported having two men wearing balaclavas knocking at their door asking for a man who did not live there. They refused to let them in and called the police. The men walked away.
Neighbours told the family that the two men joined three other men who were in a dark-coloured Vauxhall Vectra and drove off.
Neighbours also said the men who called at the door were carrying baseball bats, but the householder did not see this and no threats were made, leading the police to conclude that "at this stage, there is no evidence of any criminal offence".
South Gloucestershire Neighbourhoods Manager Inspector Bob Evely said:
"Officers carried out a search of the area but found no trace of the men. They spoke to the householder and offered advice."

"We have flagged the address for an urgent response should there be any other calls."

"At this stage we believe the incident is completely unconnected with the occupier."

"Anyone who witnessed this incident or who has any information which could help us is asked to call 101 quoting reference 1141 of 1st April."

"The neighbourhood team will make a follow-up call to the family in the next few days."
An account of the incident, believed to originate from the mother of the victim family, was posted earlier today (Wednesday) on Facebook. The message starts:
"I've had five masked men to my door tonight, trying to get in. It's only myself and my three stunning children".
The author goes on to describe two of the men and concludes:
"Please, please help me. This is a small place and I know how people talk. Help … ring 101 with ref 1141 and today's date. We won't ever forget this. My poor girl [who she says witnessed the incident] is so scared."
A similar incident occurred in Bradley Stoke in December last year, when two masked men forced their way into an elderly couple's home in Broad Croft, demanding to know where "the drugs" were.