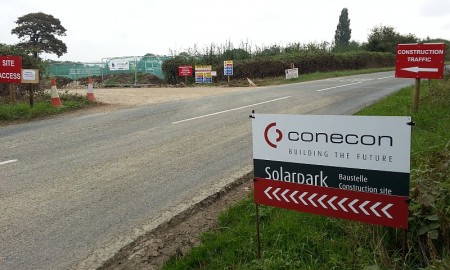 An "annoying beeping noise" heard by hundreds of Bradley Stoke residents since the beginning of September is almost certainly coming from a site on Trench Lane where a massive solar farm is being constructed, The Journal can reveal.
The irritating noise has been commented on by more than a hundred readers on The Journal's Facebook page since 6th September (see post #1, post #2), who have variously described it as: "loud and annoying", "like aliens (or a spaceship)", "a strong beeping", "like drilling through marble with a blunt pneumatic drill", "like a movie sonar ping" or "like the Apple Facetime ringing noise".
Investigations by The Journal's editor (yesterday) and Journal reader Gary Lewis (today) have both traced the noise to Grange Farm on Trench Lane (between West Country Water Park and St Mary's Old Boys RFC), where a 19MW solar farm is being constructed on a nine-field 37ha (91 acre) site.
According to a planning application approved by South Gloucestershire Council in January, the facility will comprise up to 95,000 solar panels mounted on metal frameworks.
The noise, which can be heard through the working day Monday to Friday and also on Saturday mornings, is believed to be coming from machines that are being used to hammer thousands of metal stakes into the ground, to a depth of between 1.2m and 1.5m.
Readers have reported hearing the noise in Bowsland Way, Campion Drive, Cooks Close. Dewfalls Drive, Grange Close, Perrys Lea, Westfield Way and near the Willow Brook Centre.
In response to an enquiry from The Journal, Conergy, the company that is constructing the solar farm, provided the following statement:
"There has been much speculation recently about strange noises heard in the Bradley Stoke area. We wanted to make sure that everyone is aware of what is happening at the site where we are building a solar plant."

"We're operating six pile drivers during the day and on Saturday mornings. These provide the ballast for the solar panel mounting systems that we will put in place. Pile drivers are a bit like large hammers, and every time we drive a pile into the ground, there is a rapid tapping noise, of metal on metal, which may be heard in Bradley Stoke, certainly if the wind is blowing in the wrong direction."

"On site the noise is not high pitched as many people are describing so we're going to check whether that noise is linked to our work. We'll let you know what we find out. In the meantime we apologise for any inconvenience over the tapping noise. Unfortunately there's no way of silencing them."

"Most of the work on the piles is compete (70%) but we'd like to clarify that we won't be finished with this for at least another week. We're going as quickly as we can to avoid disruption and apologies for any inconvenience caused."
The Grange Farm site lies within the civil parish of Frampton Cotterell and the parish council there will receive, from the operators of the solar farm, a 'community benefit contribution' of £1,000 per MW produced per year, which could amount to £450,000 over the 25-year period of operation for which permission has been granted.
South Gloucestershire Council is currently considering a planning application for a second (15MW) solar farm on land off Trench Lane, at Hammond Court Farm. This site, on the opposite side of the road to the one currently under construction, is closer to Bradley Stoke, but lies in the parish of Winterbourne. Both sites are separated from Bradley Stoke by the M4 motorway.
Photo: Entrance to the solar farm construction site on Trench Lane.
More info: Hear a sample of the pile driving noise (on SoundCloud)
Last 5 posts in General News