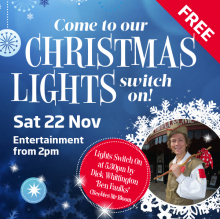 Children in Bradley Stoke are in for a real treat when CBeebies' Mr Bloom, actor Ben Faulks, switches on the Christmas lights at the Willow Brook Centre this Saturday (22nd November).
Ben, who is starring as Dick Whittington at the Bristol Hippodrome, will light up the town at 5.30pm.
The fun packed day starts at 11am when Santa opens his grotto, a first for Willow Brook. The grotto will be open every weekend in the run up to Christmas and weekdays after the children break up from school. Tickets for the grotto are £4.50 and that includes a present.
At 2pm, there will be the first of three fabulous shows on the hour from Bjorn the polar bear. The stunning lifelike polar bear and his herder Ursula will perform three nature documentary-style talks where children will be able to learn all about bears and their arctic habitat. There will even be an opportunity for brave children to feed and even stroke the polar bear.
Willow Brook Centre manager Andy Wynn said:
"It is going to be a busy day but we want to get everyone in a really festive mood. There will be something for shoppers of all ages to enjoy."
The following weekend, on Saturday 29th November, Magpies and I will be organising a Christmas market at the Willow Brook Centre, where shoppers will be able to buy unique handmade and vintage gifts for Christmas. The market will be open from 10am to 5pm.
Source: Press release from the Willow Brook Centre.
Last 5 posts in New Town Centre