Sunday 8th November saw the return of a Diwali mela, or fair, which was held in Bradley Stoke's Jubilee Centre to celebrate the coming of the Hindu 'festival of lights'. This time the fair was organised by the Indian Arts and Culture Group (IAACG) which is run by Sheetal Vanka and Sangeeta  Dewan and started around five months ago. Sheetal and Sangeeta headed the hot food stall, offering delicious home-cooked dishes for £4 per plate. Sheetal Vanka has a lot of experience in cooking authentic Indian food, as she and her husband are the owners of Ganesha, a highly rated Indian restaurant in Bedminster (details can be found at www.ganeshaindiancuisine.com). Sheetal has been friends with fellow organiser, Sangeeta for more than ten years and Sangeeta is also well-known in the community: she is a broadcaster for BCFM (93.2 FM) and BBC Radio Bristol, where her shows can be heard on Sundays.
Other food stalls that were popular at the event  included the snack stall headed by Praveena Jaiswal, a local mum with two children who runs a catering business from home providing  dinner boxes and Indian 'chaat' snacks for takeaway within Bradley Stoke. Praveena has a growing list of local customers who collect her home-cooked meals on a regular basis to save time on cooking or simply because they love Indian meals (those interested in ordering can reach her on 07435 565131). Praveena says that although she does have many Indian customers, a lot of English customers order from her too. On the sweet stall were Shalini and Ambika, selling Indian sweets such as Gulab Jamuns, Kaju Peda, Mysore Paak and more, from as little as 50p.
Henna was available at two stands, and there was also an Avon stand run by Shirin Borgall from Patchway; a Forever Living stand was manned by John Underhill and an Arbonne stand run by Vivien Barton selling skincare and nutrition products. There were also clothing shops that had brought their fabrics and products for display, such as New Look Shop in Fishponds which sells Asian clothes and jewellery, and Moghul Emporium, selling pashminas and other beautiful fabrics, run by Memona Taras. Moghul Emporium is currently setting up an online service at www.mughalemporium.co.uk; the managing director, Memona, said she was born in Bristol and raised her children here, and has seen "massive changes with boundaries breaking down".  She said her brand is "for all backgrounds".  One of the henna artists, Devyani Patel, is a retired University of Bristol biochemist. Devyani says she is an academic by profession but after retiring she has made her love of art into a business, providing bridal henna (mehndi parties) as well as nail art and hair braiding for birthdays and other parties. She lives in Langford and her business expertise has drawn people mainly through word of mouth. She can be reached on 07792 912058.
Other stalls included a holistic therapies stand by 'In Good Hands' specialist Helen Edwards, who offers Indian head massage, reflexology and much more (www.ingoodhands-wellbeing.co.uk), and a tarot stand run by Ann and Keith Westmancott who have developed their own healing cards (www.naturehealingcards.co.uk).
A steady stream of customers came to visit the mela stalls, mainly attracted by the food on offer. The rice and curry plates, as well as the kachori and sweet snacks, were extremely popular. We spoke to some of the locals and most of them said they would be celebrating Diwali at home by lighting diyas and a few sparklers. One visitor, Preeti, said she was new to the area but loved its multiculturalism. Another person said that there are fewer Asian events in Patchway so it's nice to come to Bradley Stoke. The event was open to the public and intended for people of all backgrounds to enjoy.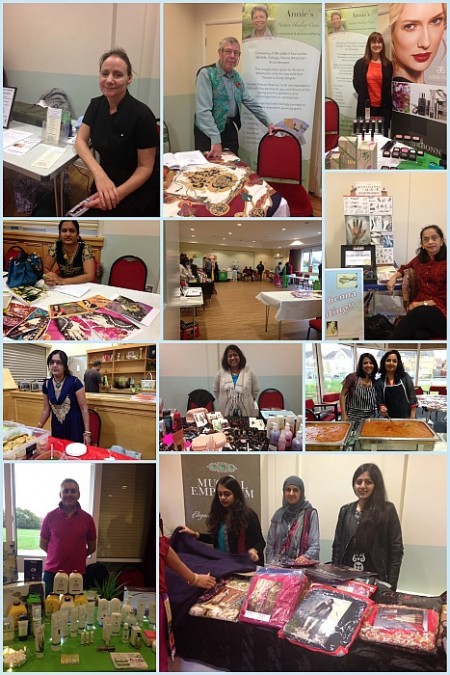 View individual photos on PicasaWeb.
Last 5 posts in General News