By Katherine Robinson of the 1st Bradley Stoke Scout Group.
The 1st Bradley Stoke Scouts were proud to take part in the annual Remembrance parade and ceremony on Sunday 11th November to commemorate the centenary of the Armistice. We would like to thank all the other local youth groups who joined us – the Trident Explorer Unit, 1st Little Stoke Scout Group, 1st Stokeway Rainbows, 1st Bradley Stoke Rainbows, Brownies & Guides, 2nd Bradley Stoke Brownies and 2nd Stoke Lodge Brownies. Representatives from our local town and county councils were also present and Rev Paul Hinckley from the Churches of Bradley Stoke gave a sermon. Young members of the group read moving stories of very young soldiers who were involved in the First World War, some being the same age as those reading. They also acknowledged the centenary year of the RAF with a summary of its history. Finally, local World War 2 veteran Johnny Johnson was recognised as the last living Dambuster as the raid commemorates its 75th year.
We would like to say a special thank you to the St John Ambulance first aiders who were on duty to help some of our young people who felt faint while on parade. We would also like to reassure everyone that they all made a complete recovery and apologise for the adjustment we had to make to the ceremony in an attempt to get them moving again as soon as possible. It was a fantastic example of how seriously our young people were taking the parade as they were not wriggling very much.
Once again, the excellent Filton Concert Brass band entertained the town square audience to complement our own little Scout marching band, who accompanied the parade, and Bradley Stoke Radio were again broadcasting live.
We would like to thank the Willow Brook Centre staff for all their help, the Harvester for lending us their chairs, the staff at Boots who kindly let us use their store, our leader and parent parade safety volunteers and our police beat team for assisting with road safety. Finally, a big thank you to the community members who joined the audience and came to share our unique youth-led Remembrance ceremony.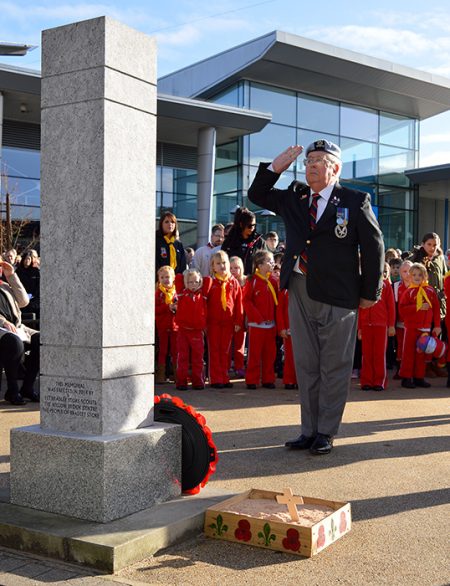 Photos (from top): 1 Crowd in the town square. 2 Scout with poppy in hair. 3 1st Bradley Stoke Scouts' marching band. 4 A veteran salutes after laying a wreath. 5 Rainbow Guides lay a wreath.
This article originally appeared in the December 2018 issue of the Bradley Stoke Journal magazine (on pages 6 & 7). The magazine is delivered FREE, EVERY MONTH (except August), to ALL 8,700 homes in Bradley Stoke. Phone 01454 300 400 to enquire about advertising or leaflet insertion.
Last 5 posts in General News