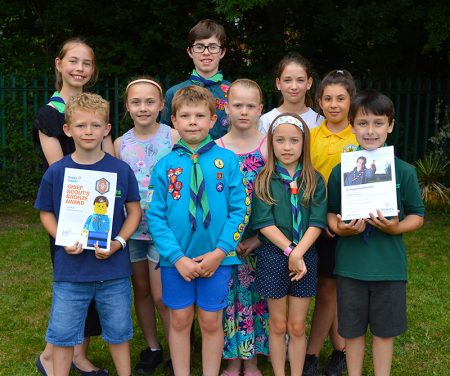 Parents, youngsters and adult volunteers gathered at Brook Way Activity Centre on Wednesday 10th July for the Annual General Meeting and family BBQ of 1st Bradley Stoke Scouts.
As well as the usual elements of the AGM, bringing together the Scout Council to agree the annual report, thank Dunkley's for auditing the accounts and nominate members of the executive to run the group, they celebrated a number of awards for young people and adults alike.
The Bronze, Silver and Gold Chief Scout Awards are the highest badges in Beavers, Cubs and Scouts respectively and represent work undertaken during their entire time in each of the sections (between two and four years). Amongst the adult volunteers, group fundraiser and active support unit manager Belinda Hodgson and group chair Nick Nelson received District Commissioner Awards from Clive Mason for their contribution over a number of years.
Clive himself had recently left as group scout leader on "promotion" to district commissioner, after ten years service, and the group presented him with a number of gifts, including an engraved torch (Ed: it's a Scout thing!).
The evening was rounded off with the family BBQ, giving young and old the chance to get to know each other across the sections, as well as meet leaders, especially important for those 'moving up' to higher sections later in the year.
The group is always looking for more volunteer leaders to prepare the young people as they develop skills for life. For more information, have a look at the group's website at 1st.bradley-stoke-scouts.org/home/join-1st-bss
Photo: Some of the young people who received award certificates at the AGM (the complete list is shown in the Roll of Honour below). Click to enlarge; hi-res version on Facebook | Flickr | Google.
This article originally appeared in the September 2019 issue of the Bradley Stoke Journal magazine (on pages 12 & 13). The magazine is delivered FREE, EVERY MONTH (except August), to ALL 8,700 homes in Bradley Stoke. Phone 01454 300 400 to enquire about advertising or leaflet insertion.
Last 5 posts in General News