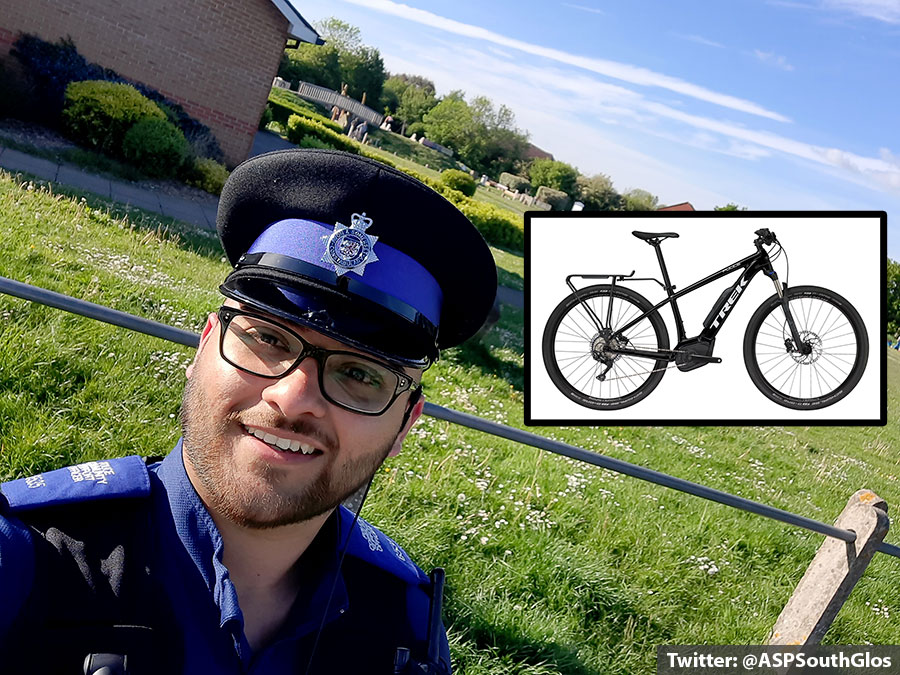 Bradley Stoke Town Council has agreed to part fund the purchase of two electric bikes for use by the town's neighbourhood police team.
The decision, made at a meeting of the Leisure, Youth & Amenities Committee on 16th August, followed a presentation by PCSO Adam Ali who had submitted an application for grant funding of £5,317 – more than ten times the usual maximum limit under the council's Grant Aid programme.
PCSO Ali told the meeting that the purchase of e-bikes for the two PCSOs in the beat team would allow them to become more visible within the community and cover more of the town than would be possible if patrolling on foot. It would also allow them to dispense with the use of a police car to travel to and from the town from Patchway Police Centre, which he said, "isn't good for the environment".
He added:
"If we had our own e-bikes, we would be more approachable as currently we drive a vehicle around Bradley Stoke, which does not give members of the public the chance to stop and speak to us as we drive past. Whereas, if we were riding past, it would be highly likely for the community members to stop and discuss issues or just have a chat."
On the question of whether ordinary 'pedal bikes' might suffice, PCSO Ali explained that this was not considered practical due to the amount of body armour they are obliged to wear at all times and the equipment they would need to carry, such as a laptop and paperwork. With no power assistance from the bike, the officers would "overheat and become really sweaty".
On the advice of the force cycle technician, he said they are looking to purchase Trek e-bikes priced at around £2,500 each. These have the advantage of having removable battery packs and are easier to service than other brands. Adding in the cost of accessories, such as bike locks, brings the total amount required to £5,137.
In response, Cllr Ben Randles, while welcoming the proposal, questioned whether supporting the application would mean that residents were being "taxed twice" (once through the police precept that forms part of council tax bills and potentially a second time through the use of town council funds). He remarked that there had been "quite a staggering increase" in the police precept in recent years and also noted that the town council part funds an additional part-time police officer for the neighbourhood team.
He found support from Cllr Roger Avenin, but Cllr Michael Hill countered by saying: "Everyone is double-taxed here. If we want better policing … we have to pay."
Following further discussion, councillors agreed to fund up to 50 percent of the total cost on condition that Avon and Somerset Constabulary funds the remainder, takes on maintenance of the e-bikes and guarantees that they will always remain for use by the Bradley Stoke beat team.
As we went to press, we had confirmation from Avon and Somerset Police that they have agreed to fund half the total costs. A force spokesperson said:
"The Bradley Stoke neighbourhood team are grateful to Bradley Stoke Town Council for agreeing to help to fund two electric bicycles. Once purchased these will be used by PCSOs Adam Ali and Oliver Kirk. The e-bikes will enable them to patrol more of the area while continuing to engage effectively with the community."
More info: Grant Aid application and supporting statement (on Dropbox)
This article originally appeared in the September 2021 issue of the Bradley Stoke Journal magazine (on page 19). The magazine is delivered FREE, nine times a year, to ALL 8,700 homes in Bradley Stoke. Phone 01454 300 400 to enquire about advertising or leaflet insertion.