Welcome to The Journal's guide to school holiday clubs, activities and play schemes in and around Bradley Stoke.
October Half-Term 2012
Bradley Stoke Leisure Centre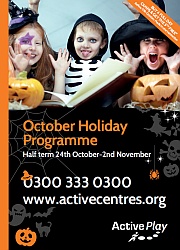 Why not take advantage of our children's holiday programme?
We always aim to create a diverse programme, offering pool based activities, arts and crafts and a wide variety of sports such as football, rugby, squash and trampolining amongst others.
Our programme always includes roller-skating; a popular activity for the whole family to take part in and enjoy whatever age range.
Activities run from 45 minutes to half day and full day camps.
On offer this half-term: Kids Kaos, Create & Decorate, Street Dance Course, Fencing, Kids Time Show, Bristol City Footbal Camp, Traampolining, Multi-Sports, Reduce, Reuse & Recycle, Rugby, Halloween Horrors, Family Roller Skating, Girl Heaven and On Your Marks (Athletics).
Read more: Holiday Programme
Summer 2010
Four Towns Play Association 5 Alive Free Play Scheme
From 26th July to 20th August 2010 at Bradley Stoke Community School. For children aged 5-11 years. Take part in arts and crafts, sports and team games. Visits from Bristol Zoo Story Soup, Library, Circus Skills, Police, Fire Service and many more. Morning session 10:30 – 12:30; afternoon session 1:30 – 3:30. No lunchtime cover.
Also at Filton Leisure Centre, Patchway Baptist Church, Little Stoke Hall and Winterbourne.
More info: Four Towns Playscheme (SBCP)
Freespace Activities
Summer activities for young people aged 11+. From 27th July to 17th August 2010 at Brook Way Youth Club.
28th July: Skate park trip
29th July: It's a knockout
5th August: Cricket match and BBQ
6th, 13th & 20th August: Trip days
21st August: Football festival
Also at Little Stoke and Patchway
More info: Freespace Activities (SBCP)
Summer Holiday Activities at the Leisure Centre
Activities for families and children aged 4-16. Monday 26th July to Friday 27th August 2010 at Bradley Stoke Leisure Centre. Multi-sport camp, girl heaven, active camps, rollerskating, tots time, fun & games, Active FIT, fencing, cheerleading, tri golf & kids' fun time.
More info: School Holiday Activities (South Gloucestershire Leisure)
Reading Challenge and Library Activities
This year's 'Space Hop' Reading Challenge, which invites youngsters to help the young crew of the Ex Libris to set up the first library on the moon, is an adventure to help keep children reading throughout the school summer holidays.
More info: Bradley Stoke Library
Summer Fun Days at the Willow Brook Centre
Free activities to keep the kids occupied during the school holidays at the Willow Brook Centre in Bradley Stoke. Every Monday in August there's colourful, bouncy fun to be had with an inflatable extravaganza!
More info: The Willow Brook Centre
What Else is on in Bradley Stoke?
Don't forget to check our our What's On guide for the very latest news on things to do in Bradley Stoke.
Related Links