Welcome to The Journal's guide to children's play areas and parks in Bradley Stoke.
Jubilee Green Play Park, Savages Wood Road
The Jubilee Green play park opened in July 2009. It was designed by South Gloucestershire Council and was funded by the Big Lottery Fund, Playbuilder and Bradley Stoke Town Council.
During its first year of operation, the park will be maintained by South Gloucestershire Council, after which responsibility passes to the town council.
The park has the following facilities:
Nest swing
Climbing frame
Single slide
Double slide
Sand Pits
Rodeo Board
Climbing Pole
Exercise bikes
Rowing machine
Car parking
Many visitors are able to walk or cycle to the park, but if you need to use your car, you can park in the car park of the nearby Jubilee Centre or on Savages Wood Road. Please be aware that your car may get locked in the car park when the Jubilee Centre closes.
Toilets
There is a public toilet at the back of the Town Council office extension at the Jubilee Centre (on the other side of the hard courts from the park). When this is closed, visitors are advised to make use of facilities at the Willow Brook Centre, ten minutes walk away.
Friends Group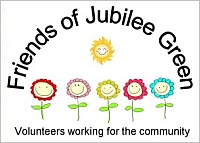 The Friends of Jubilee Green group is an independent volunteer group that has lots of ideas, energy and enthusiasm on the use and development of the park and the Jubilee Green.
They would particularly like young people to get involved and have a say in how the park develops.
Jubilee Green Play Park stories from The Journal
Other Council-Maintained Children's Play Areas
The following play parks are maintained by Bradley Stoke Town Council:
Baileys Court play area
Between the Baileys Court Activity Centre and Baileys Court Primary School.
Brook Way play area
Outside the Brook Way Activity Centre.
Paddock Close play area
Close to the Trench Lane Roundabout.
Rosemary Close play area
Alongside the walkway between Rosemary Close and Coriander Drive.
Fennel Drive play area
Close to St Mary's Primary School, alongside the walkway that runs parallel to the M4 motorway.
Other Children's Play Areas
Bradley Stoke Leisure Centre
Fiddlers Wood Lane (off Bradley Stoke Way).
Play park is accessed through doors in the centre's cafe area.
Champs Sur Marne
Close to the pedestrian crossing on Bradley Stoke Way.
Related Links