Police
Avon and Somerset Police have a dedicated team of officers serving the town of Bradley Stoke, headed by Neighbourhood Beat Manager PC Jamie Shiels.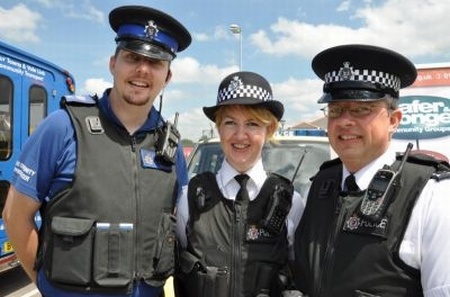 The force opened a local 'beat post' at the Willow Brook Centre in January 2011. Residents wishing to speak to a police officer in person at the beat post can make an appointment by:
'Drop in' sessions, when no appointment is necessary, are held several times a month at the beat post (check the What's On guide for upcoming dates and times).
For further details, check out the Bradley Stoke Beat page on the Avon and Somerset Police website.
'The Stokes and Villages' Police Newsletters:
Safer & Stronger Community Group
The next meeting of the Bradley Stoke Safer & Stronger Community Group (SSCG) takes place on Thursday 23rd July 2015 at Brook Way Activity Centre, Brook Way, Bradley Stoke (7pm start).
Neighbourhood Watch
The purpose of Neighbourhood Watch is to unite neighbourhoods in an effort to prevent crime, by protecting and enhancing their environment and generally looking out for each other's properties. Working in partnership with the local Neighbourhood Policing Teams gives Neighbourhood Watches a way of dealing with many issues affecting their communities, such as anti-social behaviour, burglary and vehicle crime.
Neighbourhood Watches operate in the following Bradley Stoke streets:
Arden Close, Badgers Close, Berkeley Mead, Cooks Close, Crosstree Grove, Crystal Way, Foxborough Gardens, Foxfield Ave, Harvest Close, Huckley Way, Juniper Way, Kemperleye Way, Lavender Way, Manor Farm Crescent, Meadow Way, Penrose Drive, Pimpernel Mead, Pursey Drive, Rush Close, Savages Wood Road, Saxon Way, Shepherds Walk, Shiels Drive, Snowberry Close, The Beeches, The Park, The Pasture, The Willows, Warren Close, Winsbury Way.
More information: What's involved and how do I join?
The Policing Pledge
Information from www.direct.gov.uk:
There is now a Policing Pledge. It's a new set of promises from the police on the service they should provide and every force has committed to keeping those promises.
The police promise to listen to your concerns, act on these concerns, and then keep you informed of the progress they've made. Each neighbourhood will have locally agreed priorities, as agreed by the community.
You can see the full Policing Pledge by following the link below.
Other Useful Links
Bradley Stoke and Stoke Gifford Police News on Twitter
Tweets by ASPTheStokes