Posted on Tuesday 16th April 2019 at 10:57 pm by SH (Editor)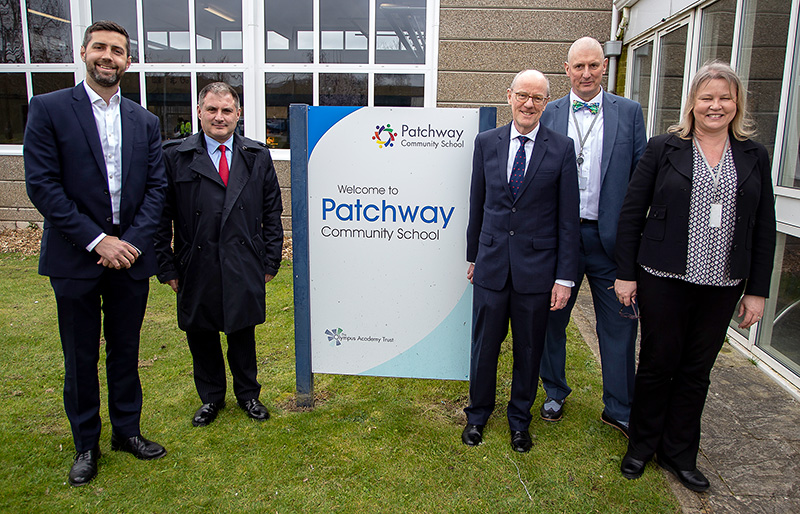 Schools minister Nick Gibb MP has paid a flying visit to several South Gloucestershire schools, including Patchway Community School, following criticism from a local academy trust leader that the district's MPs aren't doing enough to push for an increase in the level of school funding.
The visit came just three weeks after Dave Baker, CEO of the Olympus Academy Trust (OAT), appeared to be critical of Filton and Bradley Stoke MP Jack Lopresti for not attending a debate held in parliament to discuss a public petition titled 'Increase funding for schools', which had attracted over 100,000 signatures.
Mr Baker tweeted: "We are in the lowest-funded local authority area in the country and our MP was apparently not present for the debate about school funding. Looking forward to meeting with Jack Lopresti on Friday to talk this through."
Following his subsequent meeting with Mr Lopresti, Mr Baker wrote in an article published on the OAT website that he had shared his "concerns about our lack of representation in regard to inadequate school funding in our area".
Mr Baker went on to report that Mr Lopresti had "committed to requesting a meeting with Nick Gibb (minister of state for schools) in the coming weeks to share the serious concerns of school and trust leaders in South Gloucestershire."
He also reported that Mr Lopresti had pledged to liaise with other local MPs, including Luke Hall and Chris Skidmore, "so that they can show a united front in highlighting concerns from across the education sector in South Gloucestershire".
Noting that the Castle School Education Trust had recently been awarded £14 million in additional capital funding, Mr Baker added that he was looking forward to "an update in regard to the financial support also urgently required for schools within the Olympus Academy Trust, and specifically at Patchway Community School".
More: Minister invited to "discuss the challenges of funding…" »
Share this article:
Discussion is open - be the first to comment - click here to respond.