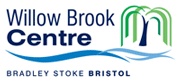 Plans circulated at yesterday's meeting of the Bradley Stoke Safer & Stronger Community Group revealed previously unannounced tenants of the Willow Brook Centre, Bradley Stoke's new town centre development.
UK mobile phone group O2 is shown as occupying a store in the Centre's shopping mall, while sandwich maker Subway (already advertising for staff) is seen to occupy the mall unit closest to the new Town Square.
Tenants in phase two of the development, which includes a "retail terrace" (now seemingly consisting of six rather than five non-food retail units) plus further shops and offices on the north-western side of the Town Square, are seen to include Brantano (shoes), Ladbrokes (betting shop) and Westworld (mobility & lifestyle).
The new stores are yet to appear in the store guide shown on the official Willow Brook Centre website.
Phase one of the development is due to open on Monday 13th October, with phase two following in July 2009.
More information in The Journal's guide to new stores at the Willow Brook Centre.
Last 5 posts in New Town Centre