A meeting of the Southern Brooks Area Forum on Tuesday (1st September) is set to discuss grant applications from Bradley Stoke organisations.
Area forums, organised by South Gloucestershire Council (SGC), give local people the opportunity to talk about issues and concerns that affect their neighbourhoods. They champion local needs and aspirations and gather the views of residents about specific community issues.
In the Southern Brooks Area, which covers Bradley Stoke, Filton, Frenchay, Stoke Park, Patchway, Stoke Gifford and Winterbourne, 14 organisations have made valid applications for a share of the £32k+ pot of grant funding made available by SGC.
Shopmobility South Gloucestershire has applied for a grant of £3,000 towards the cost of setting up a Shopmobility service at Bradley Stoke's Willow Brook shopping centre. The total cost of the project is said to be £8,000, which includes the purchase of four 'Shoprider' powered scooters.
Willow Brook Centre Manager Scott Lahive explained to The Journal:
"Whilst the facility will be based in the centre, it is possible to connect to the neighbouring library and leisure centre for those who use the scooters. The Shopmobility scheme will be run from a prominent location in the centre of the mall making it more convenient for those using the scheme."
Mr Lahive says that WestWorld, the mobility and lifestyle retailer shown as a prospective tenant in a marketing brochure for the Willow Brook Centre, has now decided that it won't be opening in Bradley Stoke.
"We felt that a shop mobility scheme would provide a great service for less mobile shoppers and when WestWorld felt that it wasn't possible to operate a shop within the scheme, we approached South Gloucestershire Shopmobility."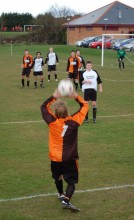 Another local project looking for funding is a scheme to improve drainage on the lower football pitch at the Jubilee Centre, Savages Wood Road. Bradley Stoke Youth FC and Bradley Stoke Town FC are looking for grant of £6,500 to carry out the necessary works.
The clubs claim that drainage problems cause matches to be "cancelled on a regular basis when there is any rain", adding that "last December and January no matches were possible on pitches due to waterlogged damage."
Bradley Stoke Town Council has already spent over £8,000 during the past year in an attempt to improve drainage on the upper football pitch at the same site.
The Southern Brooks Area Forum meeting takes place at the Greenfield Centre, Winterbourne, starting at 7pm.
More Information: Meeting Agenda (SGC)
Last 5 posts in South Gloucestershire Council