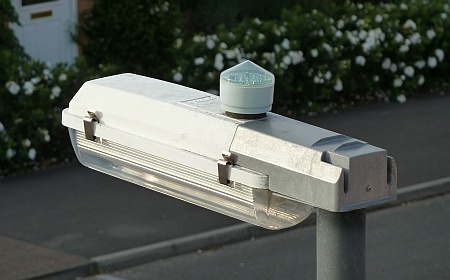 A software "anomaly" is the latest snag to hit the roll-out of part-night street lighting in Bradley Stoke.
South Gloucestershire Council says it will now have to revisit 2,000 street light columns that were recently fitted with special part-night photocells because a software anomaly in the units can lead to "erratic and varied" operation of the lights.
Between 28th April and 2nd May, residents in Bradley Stoke reported lights turning off at odd times or failing to turn on at all for several days.
The issue was initially put down to "unseasonal weather confusing the time clocks" but now a leaked memo from SGC says the supplier of the photocells has confirmed that faulty software is the root cause.
The Council says the supplier will exchange all 2,000 units already installed and pay for the cost of replacing them in the lighting columns.
The remedial work will commence on Monday 6th June and the Council warns that lights may stay on all night for two to three nights whilst the new units calibrate themselves.
The introduction of part-night street lighting, in which the lights go off for five hours between midnight and 6am (depending on the time of year), began in early April but was suspended a couple of weeks later after a surge in complaints from residents who said they were unaware of the scheme.
The programme resumed a week later, only to be halted for a second time at the beginning of May when the upgraded lights began behaving erratically.
The roll-out of part-night street lighting in Bradley Stoke is now expected to be completed by the beginning of July.
Last 5 posts in Bradley Stoke Town Council