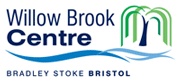 Office space at Bradley Stoke's Willow Brook Centre that has been vacant since the new town centre opened almost three years ago could be converted to a gym if South Gloucestershire Council approves an application for a change of use.
Brookmaker Ltd, a subsidiary of Tesco, is seeking approval for a change in use from class B1 (offices) to class D2 (assembly and leisure), so that the unit, located on the first floor of the Town Square block that houses Costa Coffee, Greggs, Taylors and KFC, "can be occupied as a gymnasium".
A letter accompanying the application justifies the proposed change on the grounds that the centre's original planning application included a 'leisure' element but this is no longer being provided since the demise of the Curves ladies-only gym in November 2009.
Mall unit 12 (on the first floor of the main building), which previously housed the Curves health and fitness centre, is now occupied by the CJ Hole Property Centre.
At 422 square metres, the unit under discussion  is significantly larger than the former Curves gym, which measured 116 square metres.
If permission is granted, a new gym would compete for custom with the Active Fitness Gym at Bradley Stoke Leisure Centre, the Riverside Leisure Club in Little Stoke and the Esporta Health Club in Stoke Gifford.
Related link: Gyms in and around Bradley Stoke (The Journal)
Last 5 posts in New Town Centre