This month we visited the Girls' and Young Women's Night, which runs at the Jubilee Centre on Tuesday evenings from 7 till 9pm. This is a youth project organised by Bradley Stoke Town Council, involving girls who are between 12 and 19 years old. The evening focusses on social interaction and activities, as well as possible accreditations for the young people. Activities include arts and crafts, cooking, some sports, and trips. The group recently visited AirHop Trampoline Park, and have had occasional residential weekends.
We spoke to Graham Baker, the youth development participation worker for Bradley Stoke Town Council (BSTC), to find out how the project had developed. The Girls' Night has been a popular project for a few years and has moved further into the heart of Bradley Stoke: it moved two years ago to the Jubilee Centre. Graham told us about his 'detached youth work' with young people, mainly outdoors in the afternoon and evenings, which gave him insight into their desire for a new skate park. As this developed, he noticed that most of the youth using the facilities were young men. There is now a small group of women using the new youth cabin facility near the skate park, but mostly Graham felt that in order to bridge the gender balance, a project needed to open up for young women. Graham stressed that youth work must come from "the opinions of young people", and one particularly attractive feature of this group is that it runs throughout holiday times, such as during half-term.
The Girls' Night has again increased in popularity since its recently appointed youth worker, Anita Fitzgerald, promoted the project in Bradley Stoke Community School. Anita said she "wasn't expecting any new members to turn up because they hadn't shown an interest at the time, but it made an impact and many of them brought friends along." Anita added that as she gets to "know the group more, she will introduce more focus on issues that affect young people."
The night that we visited, girls were busy making smoothies and doing different types of artwork. They enjoy the outdoor space that the room in the Jubilee Centre offers them too. The girls said that they like how they "have somewhere to go" and the fact that they have provisions such as snacks. One of the girls, Ceri, mentioned that the fact that the group is "free to join" is an added bonus.
Apart from regular activities and discussion, Graham Baker mentioned that the young women's night provides the opportunity for the girls to link to other BSTC youth work projects, for example, 'young inspector' projects where they can get involved in assessing how the local area and services meet their needs, in terms of health and social care and facilities in the area. Also the opportunity is there to help organise local events for young people. In the last few years young people have been key to organising activities at the Bradley Stoke Community Festival, and to running competitions at the skate park.
If you or any young women you know would like to join in social, education and fun activities throughout half-term and term times, find out more about the Girls' Night by contacting Graham Baker (07900 253826 or email graham@bradleystoke.gov.uk) or by visiting the Jubilee Centre on Tuesday evenings from 7 till 9pm.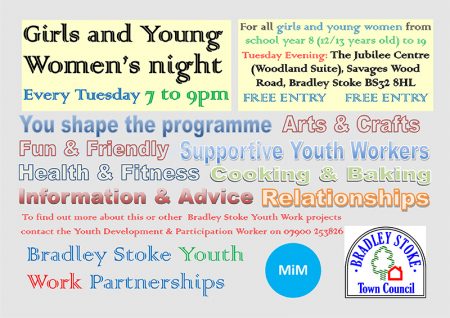 This article originally appeared in the November 2016 edition of the Bradley Stoke Journal news magazine (on page 49). The magazine is delivered FREE, EVERY MONTH, to 9,500 homes in Bradley Stoke, Little Stoke and Stoke Lodge. Phone 01454 300 400 to enquire about advertising or leaflet insertion.