The annual general meeting of Bradley Stoke Town Council on 10th May saw outgoing mayor Elaine Hardwick present cheques to her two chosen 'charities of the year'.
In accordance with the mayor's wishes declared at the start of her term in office, Heartful Dodgers and Transplant Sport were awarded equal shares of the amount collected over the year, with each receiving £3,907.
The money handed to the groups derives from fundraising events organised by the town council over the past 12 months, principally the community festival in June and the firework display in November.
Transplant Sport is the largest transplant charity promoting active recovery for transplant patients and increasing awareness of the benefits of organ donation and transplantation. It has been organising events over the last 39 years for transplant recipients and the wider transplant family – this can include donor families and live donors.
The Heartful Dodgers group aims to improve cardiac care in Bristol, North Somerset and South Gloucestershire. It fundraises for the Cardiac Rehabilitation team at Southmead Hospital, enabling it to purchase new equipment and fund courses for the staff.
Photo: Louise Hill, fundraising lead for Heartful Dodgers, receives a cheque from the mayor.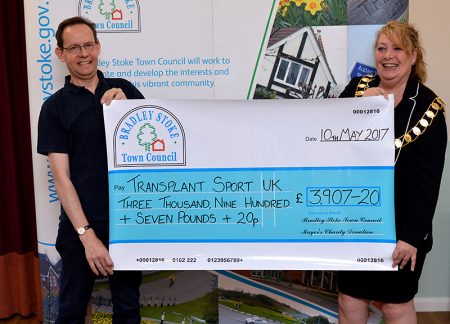 Photo: Andrew Eddy, chairman of Transplant Sport receives a cheque from the mayor.
This article originally appeared in the June 2017 issue of the Bradley Stoke Journal news magazine (on page 3). The magazine is delivered FREE, EVERY MONTH, to 9,500 homes in Bradley Stoke, Little Stoke and Stoke Lodge. Phone 01454 300 400 to enquire about advertising or leaflet insertion.
Last 5 posts in Bradley Stoke Town Council