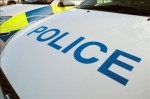 Police are appealing for the public's help to find 13-year-old Jade Evans.
Jade has been missing from her home in Bradley Stoke since the early hours of today (Monday 13th December 2010).
Her disappearance is said to be very out of character and officers are very concerned for her welfare.
It is thought she may be in the Pilning or St George areas, where she has friends.
Jade is described as of mixed heritage with a pale complexion and died plum red dark hair which is straight and just past shoulder length. She is of medium build and 5ft 4ins tall. She normally wears leggings and jumpers with grey 'UGG' boots.
Anyone who has seen Jade or knows of her whereabouts is asked to contact police at Trinity Road on 0845 456 7000 or Crimestoppers on 0800 555 111.
More info: Photo of Jade Evans [Avon and Somerset Police]