A group of residents in south Bradley Stoke say they are outraged that their request for a pedestrian crossing facility on a busy section of Brook Way has been deleted from a list of projects under consideration by South Gloucestershire Council (SGC).
Members of the Lakeside Residents' Association have been campaigning for three years for the Council to install a central pedestrian refuge or zebra crossing to help pedestrians safely cross Brook Way to access the bus stop near the junction with Elm Close.
The issue was first placed on the Council's 'Local Transport Task Register' in November 2010 and the request was bolstered by support from the Bradley Stoke Safer and Stronger Community Group in 2011.
Frustration has now turned to anger with the discovery that the project was scratched from the SGC task register in November 2011, on the advice of a Stoke Gifford District Councillor.
Cllr Keith Cranney (Con) recommended to a meeting of the Southern Brooks Area Forum on 29th November 2011 that the proposed Brook Way crossing be deleted from the task register and replaced by a scheme to improve road safety on Braydon Avenue, Little Stoke.
The Bradley Stoke residents are now urging everyone concerned about road safety on Brook Way to attend this Tuesday's meeting of the Area Forum at the Jubilee Centre (7pm start), where local transport schemes are once again on the agenda.
The campaigners say it is particularly difficult to cross Brook Way at this point because of the speed of traffic and the presence of a "blind bend" midway between the roundabouts at the junctions with Braydon Avenue and Baileys Court Road. A steep slope on the grass verge on the Little Stoke side of the road is an additional hazard, they note.
They also point out that there are plenty of mid-carriageway pedestrian refuges installed on other sections of Brook Way.
Fred Hillberg of the Lakeside Residents' Association told The Journal:
"It's wrong that Councillors from other areas should be voting on road safety schemes for Bradley Stoke. It should be solely between Highways officers and Councillors representing Bradley Stoke."

"The decision to axe our scheme was made last November but we only found out a month ago."
Fellow campaigner Peter Kite added:
"I want to know why our scheme was rejected out of hand. It's a damned disgrace to delete it without letting us know."
Mr Hillberg was also critical of the two District Councillors for Bradley Stoke South, Cllrs John Ashe and Robert Jones (both Con), who he says have failed to attend Safer and Stronger meetings and support the Brook Way scheme at Area Forum meetings.
Photo: Brook Way pedestrian crossing campaigners Fred Hillberg (left) and Peter Kite.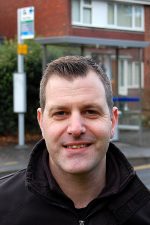 Cllr Ben Walker (UKIP, Bradley Stoke North), who helped form the Lakeside Residents' association when he represented the Lakeside ward on Bradley Stoke Town Council, said:
"This has been a requirement from the community for over three years and strongly campaigned for in local Safer and Stronger meetings by residents. To simply dismiss it without thought, discussion or consideration is another example of the serious lack of representation residents have to suffer from their local councillors. I will do all I can to assist the residents and ensure that their requests are heard and considered; as after all, this is the era of localism."
There may still be hope for the Brook Way campaigners as SGC says it is aiming to change the current task register process and is currently developing a system of evaluating all requests with the objective of developing a robust methodology to 'assess and decide' which measures should be implemented using clearly defined, consistent criteria.
Another topic of interest on the agenda for Tuesday's meeting is the allocation of £60,000 for highway maintenance schemes within the Southern Brooks area, which covers Bradley Stoke, Filton, Frenchay, Stoke Park, Patchway, Stoke Gifford and Winterbourne. However, of the 22 schemes listed and prioritised, none lie within the boundaries of Bradley Stoke.
More info: Agenda for Tuesday's Areas Forum Meeting (SGC)
Photo: Notice displayed on the Elm Close bus stop shelter on Brook Way.
Last 5 posts in Transport