More than two years after BT's announcement that the Filton telephone exchange was being upgraded to provide fibre optic broadband, subscribers in one part of south Bradley Stoke may soon be able to order the new service.
Indications are that the long wait could soon be over for properties served by one particular roadside telephone cabinet (no. 44) near the junction of Baileys Court Road and Ellan Hay Road.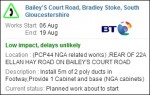 The news comes not from BT, who have been consistently tight-lipped about their rollout plans, citing issues of "commercial confidentiality", but from a Journal reader who spotted an update on the roadworks.org website.
According to information placed on that website by South Gloucestershire Council (SGC), BT is due to commence work to install a NGA (Next Generation Access) cabinet at the site on 6th August.
Hopes that an upgrade for at least a few hundred homes might be imminent are strengthened by the observation that BT's broadband availability checker is still showing a projected availability date of 30th September for fibre broadband at properties served from this cabinet. This date has previously been slipped at quarterly intervals, but it did not slip at the end of June, suggesting that the date now shown might at last be realistic.
The upgrade of the network served by the Filton exchange is part of BT's commercial rollout which is due to reach two-thirds of homes in the country by spring next year.
According to a statement obtained from BT by The Journal, 14,000 of the 18,700 properties served by the Filton exchange had access to superfast broadband by June 2013. However, in Bradley Stoke, only one street cabinet (in Stean Bridge Road, an area that already has access to superfast broadband via the Virgin Media cable network) is understood to have so far been upgraded.
It is a widely held belief that BT has concentrated its efforts on installing fibre in areas already served by Virgin Media, enabling it to win over new customers rather than getting its own existing  customers to upgrade, which might be less profitable. It has also been suggested that BT has delayed its move into non-Virgin areas in order to maximise the amount of subsidy it can attract from the government's Broadband Delivery UK (BDUK) state-aided investment programme.
Subscribers on 01454 numbers are served from the Almondsbury telephone exchange, which has been included in the BDUK programme that is being managed locally by South Gloucestershire Council (SGC). The district council is investing £2.2m of local taxpayers' money along with £710k from the government to improve broadband speeds across its area.
Around 18% of premises in the SGC area are eligible for state aid investment and the council is aiming to bring at least two-thirds of these up to superfast (>24Mbps) speeds by March 2015. This date was initially announced as March 2015, then slipped to March 2016 (with the excuse of delays caused by EU bureaucracy) but has now been restored to March 2015. The remaining one-third are guaranteed a minimum speed of 2Mbps, but may have to wait until March 2016 to receive it.
The Almondsbury exchange was overlooked in the first phase of SGC's broadband improvement programme, announced in June, but a statement recently provided to Bradley Stoke Town Council promises that a "specific update on Bradley Stoke" will be published in September. Any resultant implementation of superfast broadband for subscribers on 01454 numbers is unlikely to be realised before summer 2014.
Around half the 8,650 properties in Bradley Stoke have access to superfast broadband via the Virgin Media cable network. The remainder are dependent on BT's network, with around 2,000 of these unable to get connection speeds above 2Mbps, due to their distance from the exchange. The BBC recently reported that the average broadband speed in the UK is now 12Mbps, a development which leaves Bradley Stoke languishing in a so-called "digital ghetto", a term normally reserved for sparsely populated rural areas.
Is your property served by cabinet 44? For future reference (as further upgrades are announced), we'd like to build up a database of which cabinets serve which streets in Bradley Stoke. Please help us by entering your phone number into the BT broadband availability checker to find out the number of the cabinet that serves your street and posting the street name, postcode and cabinet number as a comment on this story.
[Ed:  Thanks to Giles Ogram for spotting the announcement on roadworks.org]
Last 5 posts in General News