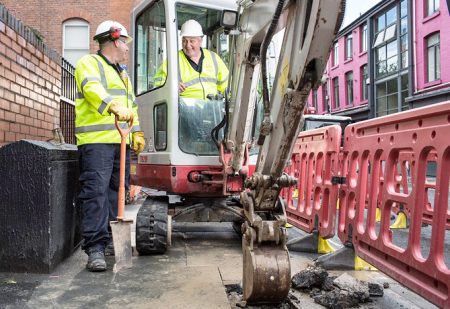 Telecommunications company Virgin Media looks set to extend its cable network to thousands more homes in Bradley Stoke just months after BT completed a state-subsidised project to bring superfast broadband to more than 3,000 homes in the town.
The company is yet to make an official announcement, but information publicly available on the roadworks.org website shows that the firm has registered plans to lay several kilometres of ducting along streets in a number of areas in Bradley Stoke from 21st September (see list below).
Another sign that work might be about to start came when local MP Jack Lopresti tweeted (on 10th July) that he had "met with @virginmedia to discuss more investment in ultrafast broadband in Bradley Stoke".
"Supercharged expansion"
The speculation is further supported by the news that several Journal readers who had previously registered an interest in having the Virgin Media cable network extended into their streets have recently received emails from the company informing them: "Your area is part of our supercharged expansion plans". The messages promise that "ultrafast broadband speeds of up to 152Mbps" will be available once the work is carried out.
Until very recently, Virgin Media (and its forerunner Telewest) invested little in extending the coverage of its cable network, the bulk of which was installed in the 1990s, preferring instead to invest in upgrading technology to boost speeds for existing customers. However, a radical policy shift was revealed in February 2015 when the company announced 'Project Lightning', which has the aim of extending the Virgin network to four million additional premises over the next five years.
Virgin Media, owned by Liberty Global, will invest an extra £3bn in the project, mainly financed through borrowing. It will create 6,000 jobs and apprenticeships in what the company claims is the single largest investment in digital infrastructure in the UK for more than a decade.
On 22nd June, Virgin Media announced that Manchester would be the first city to benefit from Project Lightning, with an extra 150,000 premises in the city scheduled to benefit from ultrafast broadband for the first time.
When asked for a statement by The Journal, a Virgin media spokesperson would only say: "We are currently considering a number of areas for our expansion plans, including Bradley Stoke, but we are unable to provide any further details at this stage."
Advance plans shown on the roadworks.org website indicate that Virgin Media will be undertaking duct laying work in the following roads from 21st September:
Webbs Wood Road
Marjoram Place
Lavender Way
Juniper Way
Fennel Drive
Rosemary Close
Coriander Drive
Palmers Leaze
Kemperleye Way
Mautravers Close
Shiels Drive
Somerby Close
Garrett Drive
Blackthorn Drive
Penrose Drive
Fern Grove
Carter Walk
Jordan Walk
Savages Wood Road
Brook Way
The Beeches
The Willows
Manor Farm Crescent
Crofters Walk
Merryweather Close
Stoke Meadows
Dewfalls Drive
Winsbury Way
Wheatfield Drive
Harvest Close
Courtlands
Cornfield Close
Saxon Way
Oaktree Crescent
Stanshaws Close
Orchard Gate
Note 1: To see advance works on roadworks.org, select 'Next 3 months' and make sure 'roadworks' is selected in the 'Customise my map' panel.
Note 2: The presence of a road in the above list should not be taken as a guarantee that Virgin Media cable will be installed. Readers are advised to await a formal announcement from the company. In the meantime, you can register your interest online via: keepup.virginmedia.com/cablemystreet
Photo: Mini-excavators digging trenches in pavements, which could soon become a familiar sight in Bradley Stoke.
This article originally appeared in the August 2015 edition of the Bradley Stoke Journal news magazine, delivered FREE, EVERY MONTH, to 9,500 homes in Bradley Stoke, Little Stoke and Stoke Lodge. Phone 01454 300 400 to enquire about advertising or leaflet insertion.
POST-PRESS UPDATES:
27th July: Journal reader Richard A reported that contractors began extending the Virgin Media ducting along Webbs Wood Road.
3rd August: Journal reader Richard A reported that contractors began extending the Virgin Media ducting into Juniper Way. Roadworks.org updated to show 28th or 30th July as start date for some works on Webbs Wood Road.
Photo: Virgin Media roadworks on Webbs Wood Road. [Credit: Chris Kelly]
Last 5 posts in General News