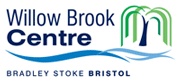 The first phase of Bradley Stoke's new Willow Brook Centre will open on Monday 13th October. The first day of trading will see the giant new Tesco Extra store open to customers, along with five other retail outlets in the attached shopping mall and Town Square. The town's existing main Tesco store, situated alongside the new development, will cease trading the day before.
The first five tenants in the centre will be Costa Coffee, KFC, Reflections Hairdressing, Nationwide Building Society and Carphone Warehouse, confirming rumours that have been circulating in the local media for some time.
A press release issued by Tesco on Friday (29th August) stated only that the centre would open "this October", but the more precise opening date of 13th October was shown on the official Willow Brook Centre website that unexpectedly went live the same day.
Centre manager Scott Lahive later confirmed the 13th October date to The Journal, confessing that the official website had gone live a few days earlier than intended. He added that any slippage in the announced date was now unlikely, but if it did occur it would be made known in the next week or so.
The Bradley Stoke Examiner noted in a report on Friday that sandwich chain Subway was also listed on the official website. However, by Sunday evening, the Subway logo (shown left, from the Google cache) had been removed. Mr Lahive confirmed to The Journal that negotiations have taken place with Subway, but he added that no contracts have been signed.
Mr Lahive declined to confirm rumours originating from information previously seen on a prototype version of the official website that Greggs (the bakers) have expressed an interest in taking a unit in the new development.
Related Links:
Last 5 posts in New Town Centre