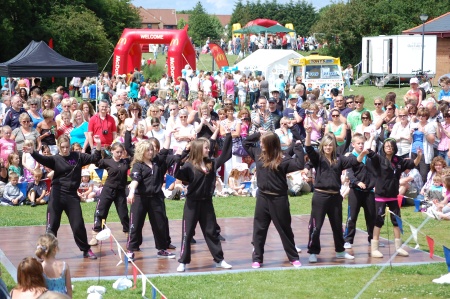 Fine weather brought out the crowds once more for the main day of Bradley Stoke's annual Community Festival at the Jubilee Centre in Savages Wood Road.
The action got underway at 11am when the first matches in the Festival of Football kicked off on the upper pitch. Youngsters from local schools battled it out in a competition where marks for fair play were the deciding factor rather than the number of goals scored.
Music and dance acts in the main arena started at 12:30pm, with the action alternating between the main stage in the car park and a dance floor that had been set up in the arena.
Star guest Sir Geoff Hurst arrived a little late at around 2:45pm and took part in a question and answer session with local children before introducing the football prize-giving ceremony, where all participants received a medal and goodie bag.
Over on the Jubilee Green, Professor Panic's Circus and traditional fairground rides entertained the younger children, while a mini-arena hosted performances from the Academy of Historical Swordsmen, Taekwon-do and the Bollywood Dancers.
Local bands and dance groups were scheduled to play on in the main arena until around 8:30pm.
Tomorrow (Sunday 14th) sees another full day of events, which gets underway with the Bradley Stoke 10k Run at 10am from the Jubilee Centre. Organisers Sole Sisters Running Club report that the race is now full, with the last few places being snapped up this afternoon at the Community Fair. Take a look at our interactive map of the race route to see where you can cheer on the runners between 10am and approx 11:20am.
The Festival focus then switches to Baileys Court, where an outdoor church service (11am) will be followed by a family picnic and the annual six-a-side cricket tournament (1pm) featuring a team of Town Councillors headed by Mayor Mark Forsyth.
Youngsters not wishing to miss out on the sporting action can head over to the Leisure Centre, where a Skate Park competition starts at noon. Anyone wishing to enter on the day should arrive a little earlier though, as a disclaimer form will have to be completed with a parent or carer's signature.  A BBQ and music will be provided to accompany the action on the ramps.
More photos from today on PicasaWeb: album; slideshow