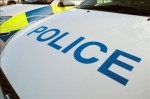 Local police have revealed that a murder suspect was arrested at a property in Bradley Stoke's Wheatfield Drive just hours after a fatal stabbing in nearby Patchway.
Speaking at the Bradley Stoke Safer and Stronger Community Group meeting on Tuesday night, Inspector Bob Evely said a man was detained at around 5:30am on Sunday 9th January, three hours after the incident in Rodway Road.
This would appear to confirm information given in a police press release issued on 10th January, in which it was stated that:
"A man is believed to have left the scene shortly after the incident and made his way to Coniston Road and towards the Bradley Stoke area."
Inspector Evely described the stabbing as an "isolated" incident, although he went on to suggest a possible link with an incident that had  occurred earlier on Saturday night at a birthday party for 16/17-year-olds at North Patchway Hall (near the Traveller's Rest public house on the A38 Gloucester Road).
Police say they are still searching for the weapon used in the attack. It is described as being a silver knife with a 6 to 8cm blade, a gold handle and a belt attachment loop. Anyone finding a discarded knife fitting this description is asked not to disturb it and to contact the police immediately.
Related link: Man arrested after "suspicious" death in Patchway