Local resident Mike Trevelyan has come up with a unique way of raising money for St Peter's Hospice with a sponsored cycle ride taking in all 92 Football and Premier League clubs in England and Wales in just 92 days!
Cycling fan fan Mike, 21, from Little Stoke, will be undertaking the trek from 2nd May to 1st August in memory of his dad Edward – known as Trev – a massive Bristol Rovers fan who was looked after at the hospice.
Mike said:
"The trek will cover over 2,000 miles – which works out at around one mile for every patient the hospice looked after last year."

"I'm taking up the challenge in memory of my dad and all the other people that St Peter's Hospice has looked after. They do such a fantastic job and this is my way of saying thank you and keep up the amazing work!"
The challenging course across England and Wales will begin with an emotional send off from Bristol Rovers' Memorial Ground before dropping in on neighbours Bristol City and then heading south to Yeovil and then across the UK. The trek is scheduled to end on 1st August, at Cheltenham Town's Whaddon Road ground.
The 1st August is significant for Mike as it is the anniversary of the day his dad passed away at the charity's Brentry hospice, following a two month stay.
Mike said:
"I lost my father just over three years ago to cancer and have been trying to think of ways to raise money for the hospice."

"All of the staff looking after my father did such a fantastic job looking after him, for which I am extremely grateful."
Mike is undaunted by the prospect of spending the best part of three months – and more than 2,000 miles – in the saddle.
He added:
"I'm not really dreading any of it. I know it is going to be torture but I am looking forward to getting out there and seeing Britain, knowing that I am also helping give something back to St Peter's Hospice and their staff for all the good work they do."
Bristol's only adult hospice cared for 2,200 patients in the region and supported more than 6,000 family members last year, including children. All care is provided free of charge, but with the NHS contributing just under a quarter of the £6.5 million needed to run the hospice a year, support from the public is essential.
Mike will be well known to many in Bradley Stoke as he worked at Tesco Extra for three years between 2007 and 2010. He has since been travelling, and recently spent some time in India on a work experience placement with the Madurai Messenger.
After a well earned rest in August, he plans to begin a journalism degree course at Worcester University in September.
For further details of Mike's trek see his Facebook page, follow him on Twitter (@Trevs92daytrek) and visit his JustGiving page.
To find out more about how to help St Peter's Hospice visit: www.stpetershospice.org.uk
The charity's Bradley Stoke shop, located at Baileys Court, is open 9am to 5pm Monday to Friday. Clothing recycling banks belonging to the charity can be found locally in the car parks of the Jubilee Centre (Savages Wood Road) and Baileys Court Activity Centre.
More photos of Mike on PicasaWeb: album; slideshow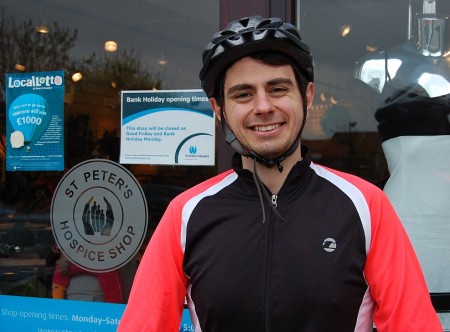 Last 5 posts in Charities