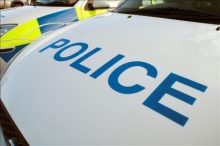 Police are appealing for witnesses following an assault in Bradley Stoke over the Community Festival weekend.
The incident occurred at around 4:45pm on Saturday 2nd June, in the vicinity of the Jubilee Centre, where the town's annual Community Fair was taking place.
A 15-year-old teenager was walking along a path near to Merryweather Close in the direction of the Jubilee Centre when she was approached by a man who assaulted her, grabbing her arm and biting her neck.
The suspect then ran off in the direction of Merryweather Close.
Police have described the suspect as a white man in his late 40s, about 5ft 8ins tall, of skinny build and with what was described as short grey messy hair. He was also reported to have a narrow face and was wearing striking brightly coloured short blue shorts and a pink/red T-shirt plus white training shoes.
Police would like to hear from anyone who may have information to help, particularly if they have seen the suspect in the Bradley Stoke area.
Anyone able to help is asked to contact the crime enquiry unit in South Gloucestershire on the force number 101.
Alternatively you can contact Crimestoppers on 0800 555111 or via www.crimestoppers-uk.org. They never ask for a name and never trace the call.
Related links: