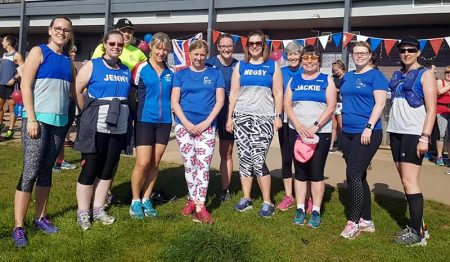 You may have seen us running on the streets of Bradley Stoke and wondered who we are and what we're about, writes club coach Leona Mills…
Sole Sisters is Bristol's first all women England Athletics affiliated running group and we have over 130 members. We run all over North Bristol using a variety of locations to keep our running routes interesting and varied. Sole Sisters has 15 active coaches taking out different groups on a Monday evening, running between 3 and 6 miles. We are an inclusive running club, we like to chat and we never leave anyone behind – front runners will run back to regroup and there will always be a coach at the back of the pack. The club runs three beginners groups a year that follow a 'couch to 5K' format over six weeks with many graduates of the course joining the club as members.
Running has grown in popularity over the last few years and we have really noticed a love of running and racing amongst our Sisters. We regularly have Sisters taking part in parkruns, 10ks and half marathons, as well as a growth in long distance running. In the last four years we have had over 25 Sole Sisters taking part in a variety of marathons at home and abroad as well as six Sisters taking on ultra-marathons this year alone.
This year (2018) has seen the start of the first Sole Sisters league. Twelve local runs have been put on the calendar with Sisters collecting points for taking part, being one of the first three Sisters back or placing in their age category. We have had six league runs so far and over 35 Sole Sisters have taken part – it's been a great way to take part in some different races and challenge ourselves whilst being part of Team Sole Sisters.
We always welcome new members and would love you to come along and run with us on a Monday evening. You never know, you might catch the running bug and meet a new running 'bestie' along the way.
• Visit www.solesistersrc.co.uk or 'Sole Sisters North Bristol Running Club' on Facebook.
This article originally appeared in the July/August 2018 issue of the Bradley Stoke Journal news magazine (on page 34). The magazine is delivered FREE, EVERY MONTH, to ALL 8,700 homes in Bradley Stoke. Phone 01454 300 400 to enquire about advertising or leaflet insertion.
POSTCRIPT (from a post on the Sole Sisters Facebook page):
Want to start running? Worried about going out on your own? Want to embrace the jiggle? Then join us…
The next Sole Sisters beginners running course starts Monday 10th September, 6:45pm at Baileys Court Activity Centre, Bradley Stoke BS32 8BH. Just turn up!
This is a 'couch to 5k course' and will have you shouting "This girl can!"