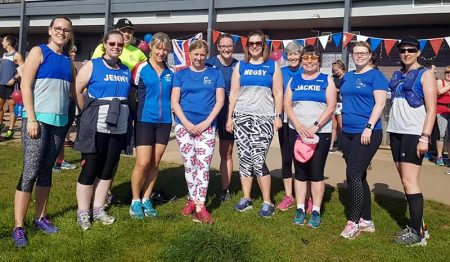 Karen Gaman of Sole Sisters ladies-only north Bristol running club writes:
The Sole Sisters Beginners' Course is ideal for any ladies who want to start running, but don't know how to begin. Three times each year, we offer a training course for women who wish to start running, have never run before or are returning after a long period of rest, illness or injury.
Our next course starts on Monday 6th January 2020. The venue for the first meeting is Baileys Court Activity Centre, Bradley Stoke BS32 8BH. Please arrive by 6.45pm to register and meet the coaches and other beginners.
We follow a realistic six-week training programme, with a gradual build-up of mileage, after which you will be able to join one of our main groups and hopefully enjoy it with a certain amount of self-satisfaction.
Many of our current members started out on this course and are now running regular 10ks, half marathons and even full marathons, so what we offer is a trusted method.
The course costs £15. For full details and an application form, visit solesistersrc.co.uk/beginners-course
See also: Sole Sisters North Bristol Running Club on Facebook
• This year's Bradley Stoke 10k Run, organised by Sole Sisters, will take place on Sunday 7th June.
Photo: Members of Sole Sisters Running Club at a parkrun.
This article originally appeared in the January 2020 issue of the Bradley Stoke Journal magazine (on page 30). The magazine is delivered FREE, nine times a year, to ALL 8,700 homes in Bradley Stoke. Phone 01454 300 400 to enquire about advertising or leaflet insertion.