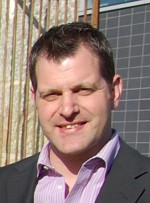 Bradley Stoke Radio stages its own version of Question Time tonight when a panel of local politicians take part in a live debate on "the key issues facing people in Bradley Stoke".
The event, compered by Julian Okoye, will hear representatives of the three main parties debate questions sent in by listeners.
Mr Okoye told The Journal:
"The intention is that the debate will cover mainly local issues pertaining to Bradley Stoke and surroundings but inevitably, as people don't live in a box, some national issues may be touched upon as well."
The participants in the studio are expected to be (pictured left to right above):
Cllr Ben Walker (Conservative)
Jon Williams (Liberal Democrat)
Jonathan Moore (Labour)
All three panelists contested the Bradley Stoke North ward in the recent district election, which saw Cllr Walker claim the seat by a margin of 139 votes over Mr Williams, the previous holder.
In an email to the panelists, Mr Okoye wrote:
"I will generally be my nice gentle friendly self but I won't shy away from asking difficult or tough questions and I am sure you won't expect me to be a soft touch either."
The public are invited to submit question for the debate to: julian@bradleystokeradio.org.uk
The Editor comments
Here's a couple of questions for starters:
What action is Cllr Walker taking to ensure that South Gloucestershire Council (SGC) secures Government funding to improve the sub-standard broadband speeds in Bradley Stoke? By its own admission, SGC has done very little to date, but many of our neighbouring Councils have already submitted detailed bids and been awarded funds to help make the necessary infrastructure investment. Has SGC missed the boat?
South Gloucestershire Council is weeks away from making a decision on spending £30.5m of local money on the North Fringe to Hengrove Rapid Transit Scheme, which includes the construction of a Stoke Gifford by-pass and will see dedicated bus lanes installed along the full length of Bradley Stoke Way. A public consultation on the project was held in late 2009 but the scheme has since become significantly more expensive for the local taxpayer while at the same time being reduced in scope. If the scheme is approved and wins Government funding, Compulsory Purchase Orders and a Public Enquiry are scheduled to follow before the end of 2012 [source]. What are the views of the panelists on the scheme and do they agree that the public should be formally consulted on the much-revised proposals before any decision is made?