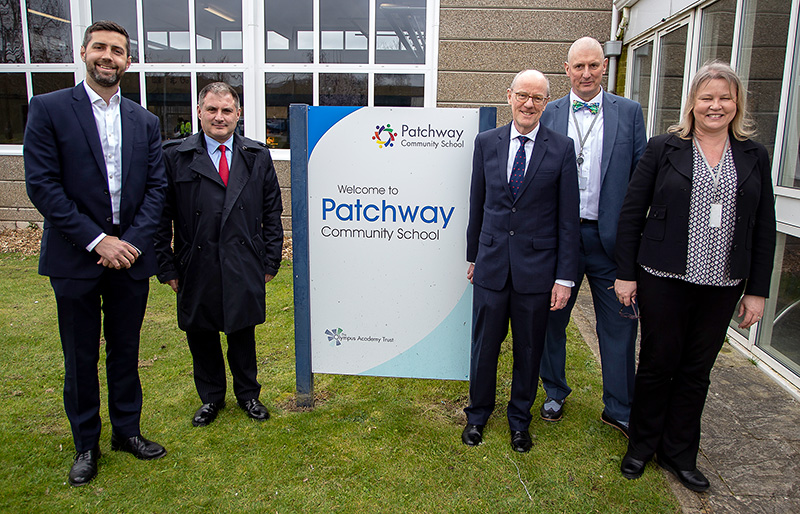 Schools minister Nick Gibb MP has paid a flying visit to several South Gloucestershire schools, including Patchway Community School, following criticism from a local academy trust leader that the district's MPs aren't doing enough to push for an increase in the level of school funding.
The visit came just three weeks after Dave Baker, CEO of the Olympus Academy Trust (OAT), appeared to be critical of Filton and Bradley Stoke MP Jack Lopresti for not attending a debate held in parliament to discuss a public petition titled 'Increase funding for schools', which had attracted over 100,000 signatures.
Mr Baker tweeted: "We are in the lowest-funded local authority area in the country and our MP was apparently not present for the debate about school funding. Looking forward to meeting with Jack Lopresti on Friday to talk this through."
Following his subsequent meeting with Mr Lopresti, Mr Baker wrote in an article published on the OAT website that he had shared his "concerns about our lack of representation in regard to inadequate school funding in our area".
Mr Baker went on to report that Mr Lopresti had "committed to requesting a meeting with Nick Gibb (minister of state for schools) in the coming weeks to share the serious concerns of school and trust leaders in South Gloucestershire."
He also reported that Mr Lopresti had pledged to liaise with other local MPs, including Luke Hall and Chris Skidmore, "so that they can show a united front in highlighting concerns from across the education sector in South Gloucestershire".
Noting that the Castle School Education Trust had recently been awarded £14 million in additional capital funding, Mr Baker added that he was looking forward to "an update in regard to the financial support also urgently required for schools within the Olympus Academy Trust, and specifically at Patchway Community School".
Mr Lopresti later put out a statement that he had been unable to attend the debate on school funding because he was "in a meeting as part of my government role assisting the Brexit Secretary".
He added: "I welcome the Government's commitment to spend an additional £1.3bn on education above and beyond previous spending plans. In fact, figures from the independent Institute for Fiscal Studies show that real terms per-pupil funding in 2020 will be more than 50 percent higher than it was in 2000. I welcome that the Autumn Budget reiterates the commitment to improving every child's education, with an additional £400 million for schools to spend on improving their facilities."
A week later, Mr Lopresti, reported that he had delivered on his pledge to meet the schools minister (see photo above), writing: "On Monday [18th March] I met with Nick Gibb MP to discuss with him the school funding situation in South Gloucestershire in general and with specific issues on school buildings, some of which are now outdated and in need of maintenance, repair, and, in some cases, replacement. This was a successful meeting where the minister informed us that school funding per pupil will be 6 percent higher next year than it was in the 2017/18 academic year."
"I was able to raise my concerns again about the condition of Patchway Community School, having visited it myself last week and met with headteacher Karen Cornick and trust CEO Dave Baker. I strongly felt that the minister should come and see the school for himself and he has accepted my invitation, giving a commitment that he will come and visit Patchway in the near future."
"I look forward to welcoming the minister to South Gloucestershire and to continuing our ongoing conversation about the best way to secure fairer school funding for our area."
Just days later, a spokesperson for the Conservative group on South Gloucestershire Council revealed that Mr Gibb had duly visited three South Gloucestershire schools, including Patchway Community School, on 21st March, "to discuss the challenges of funding, see the improving standards first-hand and hear about the experiences of staff and pupils".
Toby Savage, leader of South Gloucestershire Council, said: "We are delighted that the minister accepted the invitation from our MPs to visit South Gloucestershire and hear about the progress we are making despite the challenges facing our area. This year we have already shown our commitment to our schools through our record £78 million capital investment in the budget, but we have no intention of stopping now and will continue our lobbying for further improvements."
Cllr Savage also tweeted: "Thanks to Nick Gibb for accepting [local MPs'] invite to spend day visiting #SouthGlos schools to meet pupils & see our improving standards, funding challenges & need for #fairerfunding. Loads better than brief mention in a Westminster backbench debate!"
In reply, Dave Baker tweeted drily: "We were pleased to welcome Nick Gibb, Toby Savage and Jack Lopresti to Patchway Community School yesterday morning for a tour and discussion about the realities of providing education in the lowest-funded local authority area in England. We await next steps with interest."
Top photo (l-r): Cllr Toby Savage (leader, South Gloucestershire Council), Jack Lopresti MP, Nick Gibb MP (schools minister),  Dave Baker (CEO, Olympus Academy Trust) and Karen Cornick (headteacher, Patchway Community School).
This article originally appeared in the April 2019 issue of the Bradley Stoke Journal magazine (on pages 12 & 13). The magazine is delivered FREE, EVERY MONTH (except August), to ALL 8,700 homes in Bradley Stoke. Phone 01454 300 400 to enquire about advertising or leaflet insertion.
Last 5 posts in Education